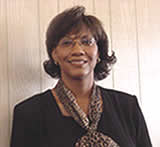 Sandra Cox-Holmes, MA
Ms. Cox-Holmes has worked in the public health field with county government and the state health department for over 18 years. Sandra currently serves as a program consultant working with the NC Sickle Cell Disease Syndrome Program for the Division of Public Health as well as being a counselor at WCI.
Her public health experience includes coordinating, planning, developing, implementing, and evaluating HIV/STD educational programs, health promotion and disease prevention programs, prenatal health programs, child health and family planning programs, staff development programs and sickle cell disease programs. She has collaborated with governmental agencies, and private and non-profit organizations in order to assist in enhancing the quality of life of families in North Carolina.
Sandra's counseling experience includes an internship with Wake County Human Services working with clients with severe, persistent mental illness as well as substance abuse problems. She has co-facilitated substance abuse groups and facilitated an anger management group. Sandra has also been employed as a group facilitator by the Urban Ministries of Raleigh/The Ark Shelter, where she worked primarily with women.
Ms. Cox-Holmes serves as President of the North Carolina Board of Registry for Health Education, and President of the local chapter of Chi Sigma Iota, the Counselor Education Honor Society. Ms. Cox-Holmes is also a member of several community boards and organizations including the North Carolina Society for Public Health Educators (NC SOPHE), the American Counseling Association, and the North Carolina Counseling Association.
Sandra Cox-Holmes received her undergraduate education at North Carolina Central University in Community Health Education in 1984, and her Masters in Counseling in 2000.